US shoe retailers expect happy holidays after strong Q3
Nov 23 - Mid-tier footwear retailers are lacing up for a strong holiday quarter as demand for boots and other shoes grows during the winter season, and two of them raised their full-year profit views.

Brown Shoe Co shares were up 17 percent at $14.24 Tuesday morning on the New York Stock Exchange. Shares of DSW Inc rose 5 percent to their highest in 3 years, while those of Genesco Inc jumped 8 percent to a 3-year high.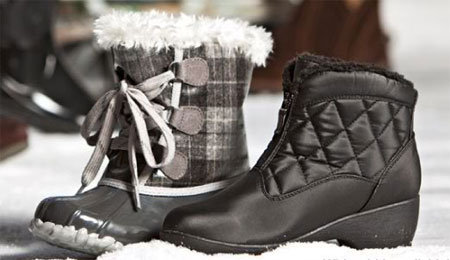 Cold weather boots available at DSW
Accessories like shoes are usually a popular buy during the holiday shopping season, which begins the day after Thanksgiving -- referred to as "Black Friday."
As many as 138 million shoppers could hit U.S. stores this Black Friday weekend, according to the National Retail Federation.
With higher-income consumers more positive about their financial prospects but lower-income consumers still struggling, retailers are working hard to bring in the right merchandise that will resonate with shoppers.
DSW, which sells branded footwear at discounted prices, said its cheaper offerings brought in more shoppers during the third quarter, but Brown Shoe said fewer promotions boosted margins at its
Famous Footwear
chain.
"As we begin the fourth quarter, we continue to experience robust sales growth at Famous Footwear, where same-store sales are trending in the high single-digits," Brown Shoe Chief Executive Ron Fromm said.
St. Louis-based Brown Shoe, whose brands also include Naturalizer, LifeStride and Via Spiga, expects earnings of 90-95 cents a share for the full year, above market estimates.
Columbus, Ohio-based DSW raised its full-year view for the second time this month, while shoe and hat retailer Genesco said it was more optimistic for the holiday season now than it was when it updated its full-year forecast in September.
Genesco said comparable sales are running up 11 percent through the first three weeks of November, and that it was "benefiting from a decrease in competition" at some of its segments.
By Nivedita Bhattacharjee

(Reporting by Nivedita Bhattacharjee in Bangalore; Editing by Anne Pallivathuckal)
© Thomson Reuters 2023 All rights reserved.